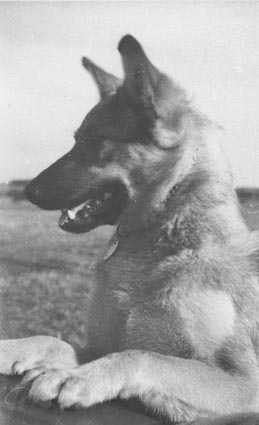 Ginnie – collected from a box outside the old Portsmouth RSPCA in 1973, grew up with our children, endeared herself to neighbours through two changes of address, died of cancer 1986.
Early Days
1: Just arrived! Sorry about the lack of colour, but this was in the last century!
2: It's hard to believe that she used to be able to sit on my hand.
3 and 4: This was a brave thing to do with a BMC car – she might pulled the door handle off.
5: Here's proud 'mum' – but she still aspired to 'real' children!
6: Here she is fully grown – still trying to damage that mini.
Living colour!
1: Lounging in the sun by the pond, at our first house in Eastney, Portsmouth ….
2: … where we were handy for the beach. That's Evan in the water. Note the section of Mulberry Harbour in the background.
3: Dogs have no need for towels!
4: Now in Lovedean, 'over-the-hill' from Portsmouth – and getting on a bit.
5: Karl & Evan with 'Bonne' (Yvonne) Maggie's aunt and guardian. Ginnie looks a bit put out by this incomer!
6: She's come to talk to me instead, at the table.